Available Volunteer Opportunities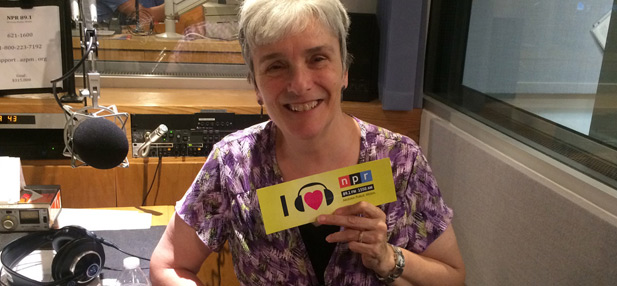 Betty Stauffer, 2014 Radio Pledge Volunteer
Dímelo: Stories of the Southwest Project Volunteer
Lend a hand in developing this bilingual community storytelling project produced by
AIR Media
and in collaboration with AZPM. Facilitate story-gathering in the community and provide event production support.Volunteers will also do a variety of tasks including website administration, digitization, transcribing/logging tape, and social media - based on background and interest. Volunteers comfortable with Spanish especially desired. More info here:
dimelostories.org
Front Office Assistant
Be up front where the action is and serve as the face of Arizona Public Media! Observe and participate in the daily operations of a local television and radio station! Meet and greet major players in local, national, and international news, assist listeners and viewers with questions and feedback, lend your administrative skills, and interact with AZPM staff and learn about their functions.
Member Services Outreach Volunteer
Help AZPM say "thank you" to our members! Put together mailings or place phone calls to members to thank them for supporting AZPM. There is no solicitation of funds or pledge renewals involved; you are simply conveying our appreciation.
Community Ambassador
Represent AZPM at Special Events, Live Productions, Children's Activities, and Member Screenings. Volunteers will do a variety of tasks, including staff event booths and registration tables, take tickets and seat guests at screenings, promote AZPM membership, meet new people, answer questions about AZPM programs and events, participate in children's activities and readings, dress in a PBS character costume, help with event flow, and take photos as needed.
Pledge Drive Volunteers - TV and Radio
Connect with the community by answering phones, receiving pledges, and supporting the on-air guests and producers during our pledge drives. This is a great volunteer opportunity for groups, businesses, and organizations. Training will be provided!