Major Giving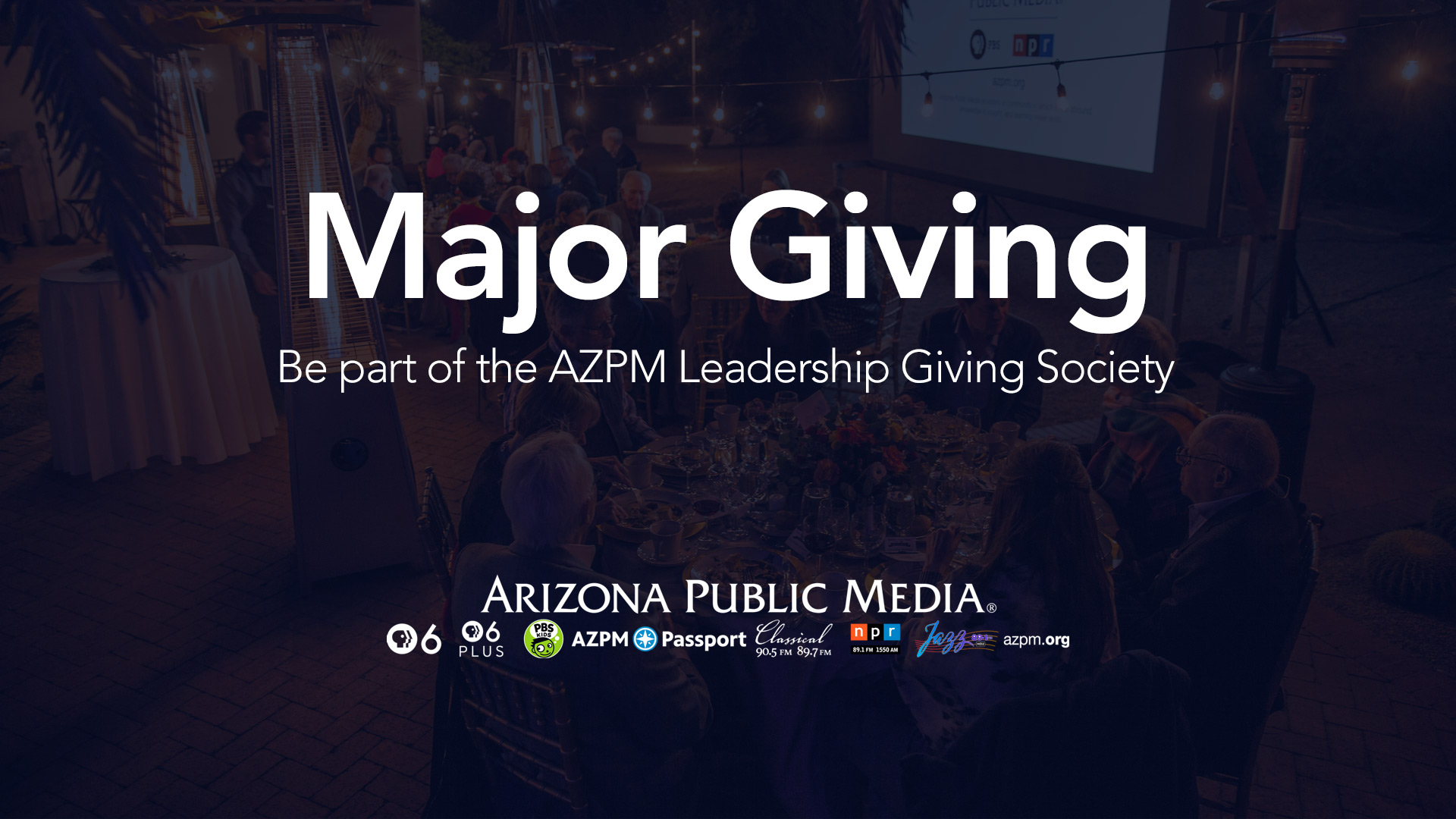 Arizona Public Media (AZPM) is committed to being a trusted source of content and educational services that foster an informed, active citizenry, civil and thoughtful conversation, and community collaboration. But we cannot do it without your partnership. You give because you believe, as we do, in providing high-quality programming that fills the soul and challenges the mind. Thank you.
Be Part of AZPM's Leadership Giving Society
A short video from AZPM's Deb Dale asking supporters, viewers and listeners to make a year-end gift.
While more than 27,000 families currently support AZPM with vital general membership contributions, only a select group of members are part of AZPM's
Leadership Giving Society.
Donors whose annual gifts total $2,500 or more are members of the AZPM Leadership Giving Society. These members provide the foundation of all AZPM programming and original production. Their support also provides the financial wherewithal to invest in technologies to provide programs and services to everyone in Southern Arizona, regardless of their ability to pay. The Leadership Giving Society. is our way of recognizing major contributors who help keep the vision of public media in Southern Arizona strong.
The Leadership Giving Society is divided into unique tiers which provide special benefits and privileges to their members. Click on each tier for more information.
Producer's Circle Benefits and:
Invitation for a day out in the field with Arizona 360 or Arizona Illustrated
Donor Wall recognition at AZPM Studio Offices
Private in-studio program screening with ten guests
Director's Circle Benefits and:
Invitation to attend an AZPM Production in studio
Invitation for dinner with the AZPM CEO
Editor's Circle Benefits and:
Opportunity to record a testimonial for on-air use
University of Arizona 1885 Society Distinction
Invitations to exclusive VIP events
Studio Circle Benefits and:
VIP Reception preceding AZPM's Annual Regional Emmy® Award Winners Celebration
Invitations to pre- or post-screening events
Invitations to events and performances hosted by AZPM partners
VIP Tour of the AZPM Studios for you and five guests
Opportunity to establish a personalized communication plan with a Development Officer
University of Arizona President's Club Recognition
Membership in the Old Main Society through the University of Arizona Foundation
TV on-air acknowledgement as a member of the Legacy Circle
Personal behind-the-scenes tour of AZPM facilities conducted by CEO and Board Chair
A DVD of all new AZPM local productions
Opportunities to meet AZPM officers, on-air personalities and visiting PBS and NPR national talent
The easiest and most common way to give to AZPM is through a tax deductible gift of cash, usually made by check. However, gifts can take many forms. These gifts are facilitated by the University of Arizona Foundation, 501 (c)(3). Here are a few options:
For the purposes of wills, trusts, etc., please use the name University of Arizona Foundation for the benefit of Arizona Public Media. We are a 501(c)3 nonprofit; our tax identification number is 86-6050388, and our address is PO Box 210109, Tucson, AZ 85721-0109.